Hiring Rooms
Many thanks for the hire of the hall on Saturday - we had such a great party and the facilities were perfect.  We will be back next year! :-)    Carly
Just a note to say thank you for the hire of Wesley Hall and its facilities.  The facilities are lovely, and kitchen well equipped, and fridges cold.   Perfect for a party and we thoroughly enjoyed ourselves.  I hope we locked up ok.  Can't wait to have another party!   Jo
Thanks so much for letting us use the hall, great facilities!  Farah          
The Examiner was very impressed with the venue!    It is an excellent venue, having the lovely entrance, and kitchen and lovely loos!   Jo
Thank you again for the hire of Wesley Hall. Charlie's party was a great success!   Marlene
Joshua had a fab party today, the hall was perfect!   I'll definitely be recommending the hall to my friends. The whole layout, space and facilities were so convenient and easy to get to and use. It really was brilliant! :)    Kelly
Looking for a venue?  
for
Children's parties, meetings,
training events, evening classes,
orchestra rehearsals,
coffee mornings,
family celebrations,
special functions …
Christ Church has a number of rooms available for one off or regular hire.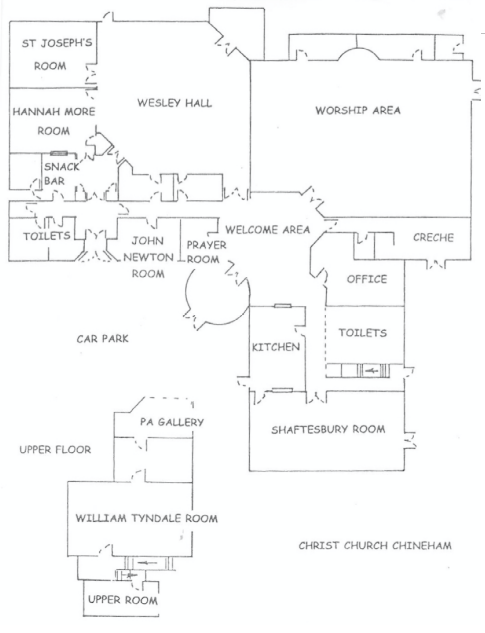 You are welcome to drop in during office opening hours (Mon–Fri 9:30am–2:30pm) to see the facilities available.
Contact the office for more information.
Click for current room hire rates - these rates include use of the kitchen or snack bar (whichever is closest).
WESLEY HALL
Our large hall which holds 150+ people. Carpeted, it's suitable for parties, exercise classes, and large meetings.
SHAFTESBURY ROOM
A large carpeted function room which easily holds 50 people. This room is suitable for adult parties, evening classes and so on. It has black-out blinds to help with presentations or films.
WILLIAM TYNDALE ROOM
This room is upstairs and is carpeted.  It holds up to 20 people and is suitable for meetings, evening classes and so on.
 
HANNAH MORE ROOM
Suitable for groups of up to 20 people, this room has a washable flooring, so are particularly suitable for children's groups, small parties and any messy activities.  There is a hatch from the small kitchen directly into the Hannah More Room.
 
UPPER ROOM
This room is upstairs and is carpeted. It holds 12+ people and is suitable for small groups.
 
JOHN NEWTON ROOM
A carpeted room on the ground floor suitable for small meetings of up to 10 people.
 
The worship area, Crèche and the kitchen (separately) are also available to hire.