Who's who?
Lead Minister: Rev'd Jonathan Clark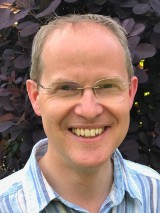 Jonathan is a Christian, husband, step-father, coffee lover, glass artist, jogger, musician and all-round techie (sometimes in that order). He's been a Christian since boyhood, and is very grateful to his family and youth leaders who prayed for him, and taught and encouraged him in the Christian faith.
After studying science at University, he went on to become a programmer and then systems engineer, working in the intelligence services for nearly 20 years. During that time he was very involved in the leadership of his local church, including service leading and preaching. It was there that he met his wife Martha, and where God called him to ordained ministry in the Church of England. He loves preaching and using other ways to help people come to know all that God has done for them, and how to follow Jesus more closely.  They have been in Chineham since July 2018.
Children & Families Leader: Katy Lowe 
I really enjoy being the Children and Families Leader here at Christ Church. I'm married to Jon and we have three young children: Jemima, Pippa, and Angus.  We also have a mature and wonderful dog, Tilly! We love campervan getaways, exploring the outdoors, hunkering down by the fire and cosy Strictly Come Dancing evenings.
I love all things crafty and collect odd bits of material for those projects that I'll do one of these days. Come and have a chat and share a cuppa, I work Mondays to Thursdays and I'm here on a Sunday morning.
cfl@christchurchchineham.org.uk / 07562 048052
Children & Families Assistant: Tonya Butler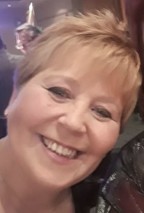 Hello my name is Tonya Butler, I'm a wife, mum to 5 children and also a Nan. I've lived in Chineham for 23 years, I love the community we live in and love nothing more than a cuppa and a chat and supporting those around me.
Youth & Families Leader: currently vacant
Could you be our next Youth & Families Leader ... or someone you know ...?
Administrator: Gill Godfrey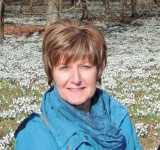 Gill joined the staff at Christ Church in May 2015 and now feels very much "part of the furniture" in this busy and interesting role.  Her background is in administration and she very much enjoys the variety of work that Christ Church offers.  She and her husband Dave live in the Viables area of Basingstoke and have two grown up sons and two grandchildren.  Gill works Monday, Thursday and Friday.
As well as her work at Christ Church, Gill volunteers at Basingstoke Shopmobility on a Tuesday morning and in her spare time enjoys reading, walking, gardening and holidays.
office@christchurchchineham.org.uk / 01256 474280 / Christ Church, Reading Road, Chineham, Basingstoke, RG24 8LT
Baptist Link Minister: 
Rev'd Michael Banfield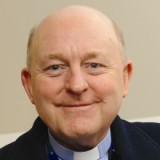 We are sorry to say that Michael died in March 2020. We will be holding an amazing memorial service for him in the autumn.
Michael Banfield and his wife, Linda, have joined the church as Baptist members. He is a recently-retired, ordained Baptist minister. His last "church" was London Luton Airport where he was full-time Senior Chaplain for eighteen years, ministering to people of all faiths and none, and leading a volunteer team of ten part-time chaplains.
They chose Basingstoke to move to for retirement, mainly as both their daughters live here and work nearby.
"What do I enjoy about Christ Church, and why did I feel led to be committed to it? Well, after eighteen years of ecumenical ministry, with strong support from the local Anglican diocese, I've come to believe strongly in doing together whatever we can do together, so to be part of an ecumenical church like ours seems natural. Add to that the fact that we live in Marnel Park, not more than a mile and a half away, and it seemed a good choice. That was confirmed when we began to attend, and found a lively, friendly, warm fellowship, with biblical teaching and joyful worship. Then there was the coffee afterwards on our first Sunday. Well, that was worth returning for! And that was before I knew how often cake is mentioned..."
Methodist Church Link Minister: 
Rev'd Valerie Fisher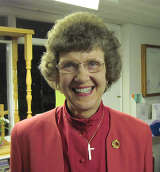 I was brought up in a Christian family & went to Sunday School & a Methodist Church as a child. At the age of 13 I made my personal commitment to Christ at a youth rally in a local Evangelical Free Church. Later I trained as a teacher, specialising in Geography, but also teaching some RE & Maths. I was 25 years in Secondary teaching followed by 5 years in a Tertiary College. 
In December 1991 I sensed the call to the Ministry at a Churches Together Advent Meditation Service which was held in a URC Church. 1992-1993 I trained as a Methodist Local Preacher. 1993-1994 I candidated for the Methodist Ministry. 1994-1996 I trained for the Methodist Ministry at Wesley House, Cambridge. 1996 I was stationed in the Reading & Silchester Circuit. I officially retired in 2008 but I have been working for much of the time since then, although not in paid employment since 2015.
What a joy & a privilege it is to be able to continue to serve the Lord wherever there is a need!
V.A.F@btinternet.com / 01189 834793
United Reformed Church Link Minster: 
Rev'd Kay Blackwell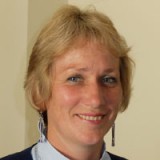 Rev Kay Blackwell was ordained and inducted into London Street Basingstoke and Old Meeting Tadley United Reformed Churches on 31st August 2013. She had just completed her ministerial training and a degree in Christian theology at Westminster College in Cambridge where she had been studying for two years as a part-time and three years as a full-time student.
Having completed her first degree in contemporary craft & design in Brighton. She is married to Andrew and together they now have three daughters, aged 23, 20 and 15 years old. Following completing a post grad in teaching and whilst her family were young, Kay developed and ran her own little business of pre-school music classes called 'Fiddlesticks Music'. She became Christian in Brighton in her thirties, having had no previous experience of Church, so she had a lot to learn, not least how to find her way around the Bible! The music classes thrived and Kay soon realised that they had the potential to form a great Christian out-reach to young children.
Around twelve years ago, Kay sold on her business and the family re-located to Petersfield were she developed a new 'Fiddlesticks music' business but she also became a children's and family worker for the Petersfield United Reformed church.
Here she developed through this a growing family ministry over the next seven years until she felt called into full time ministerial training.
revkblackwell@gmail.com / 01256 242152 or 07582056286
DBS Co-ordinator: Alex Bain