A loud A-Men
herb payne Tue, 08/07/2014 - 20:42
Coffee Bar Culture in the 1960s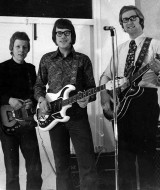 From the mid 1960's to the mid 1970's in Britain it was common for at least one church (sometimes a group of churches) in a town to take over unused retail space in a the town centre, do a minimal amount on work on it and open it on an evening or 2 each week as a "Christian Coffee Bar". It was obligatory to suspend a fishing net from the ceiling complete with coloured glass floats. Basic tables and chairs were imported and cheap instant coffee and chocolate bars would be typical fare on offer. Almost every town and city had at least one. Some, notably "The Mustard Seed" in Sheffield, were much more professional – full-time with proper coffee and furnishings. This environment allowed the "Christian Beat Group" to flourish. Real people actually dropped in off the street, all sorts of people in different states of intoxication, and they normally got soundly preached at. No punches were pulled (although the punters occasionally threw some). The evening would be a mixture of music groups, DJs and guest speakers. A nervous posse of ordinary Christians always in attendance prepared to help and chat to whoever came through the door.
The A-Men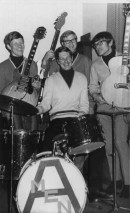 Into this environment Richard, Derek and Herb, based in Newbury, launched themselves as The A-Men. There were 1 or 2 personnel changes during the years but all together The A-Men did nearly 300 gigs in 5 years around the country. As you can see that's an average of more than one gig per weekend every year. No wonder we had no mates! Such was the culture that, in all this time, we never got paid more than travelling expenses and didn't expect more than that. A more detailed account can be found on the web (see below).
The songs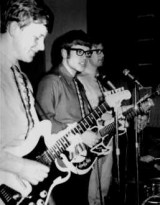 Our early repertoire was made up, quite naturally, of existing classics like "One sat alone" (we still do quite often), "Oh sinner man" and "It is no secret". As time went on we wrote most of our own material. With lyrics like "sinner what you want, that's what we've got" and "your mind is filled with longings of its own and selfish motives mould your life" we couldn't be accused of being indirect but it's surprising we didn't get physically assaulted.
More info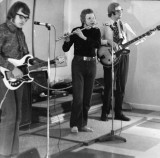 The A-Men diaries, including some audio, can currently be found at: http://www.herbpayne.com/content/1967-1972-amen
"Musical Gospel Outreach" (MGO) was a co-ordinating organisation. They published a magazine called "Buzz". See their recent Facebook page: https: //www.facebook.com/MusicalGospelOutreach
John Slater has assembled an impressive amount of information on his site and has some YouTube channels too: www.1960schristianmusic.com